'Zelda & Link' Triforce 1.20ct Natural Diamond White/Rose/Yellow Gold Inspired Zelda Ring Set
Description
ID# ZT-600-03
Payment plans available
The Triforce – Referred to as "The Golden Power" in ancient Hylian literature, it is an omnipotent sacred relic, representing the essence of the Golden Goddesses who created the realm of Hyrule.
"It can only be called fate… That here, I would again gather the three with the crests… That I should lay my hand on that which grants the wishes of the beholder. That when power, wisdom, and courage come together, the gods would have no choice but to come down… The power of the gods… The Triforce! He who touches it will have whatever he desires granted!"
— Ganondorf
Legend of Zelda – Zelda & Link Triforce Ring by Sapphire Studios
Two ring set joined together (rings are joined at bottom) – Bridal Set / Engagement and Wedding Zelda Rings
Unique engagement, wedding or dress rings!
Metal Solid Gold – Choose from 10k, 14k or 18k in drop down box
Choose from:
Rose and White Gold –  in 10k, 14k or 18k 
Yellow and White Gold –  in 10k, 14k or 18k 
Full White Gold (both rings) –  in 10k, 14k or 18k
Center 0.50ct Natural princess cut white diamond – Comes GIA, IGL or EGL certified 
Side stones appx 0.70ct Natural white diamond 
We are not associated with Zelda or any associated brands of Nintendo, this is not official merchandise and all designs a purely inspirational
Custom made please allow 2-3 weeks for manufacture 
FREE SHIPPING WORLDWIDE 
We are not associated with Zelda or any associated brands of Nintendo, this is not official merchandise and all designs a purely inspirational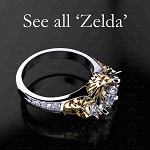 STONES
Lab created stones – these are not natural earthed diamonds which are very expensive. SWAROVSKI Gemstones™ is a leader in producing synthetic gemstones that possess a very natural beauty. The stones are laboratory-grown made from zirconium dioxide – cz base, that boast fine colour, no colour mixing, and a superb cut, which result in a beautiful duplication of nature. 100% conflict free stones. These are not carbon stones these are a cz created stones and are very hard, heat resistant, and reflect light just like a diamond.
NATURAL WHITE DIAMONDS
Natural white diamonds – certified GIA, IGL, EGL, or DGLA. Stones guaranteed and certified. Natural black diamonds come guaranteed and with an authenticity certificate.
MOISSANITE
Charles and Colvard Forever One certified moissanite – More brilliant than diamond at a fraction of the cost, Charles & Colvard Forever One Moissanite® is among the hardest minerals on earth, more durable than sapphire, ruby, or emerald. Its beauty and brilliance is destined to last forever. We only use top graded Forever One Moissanite® with color grading of D-E-F. Forever One® is certified, laser inscribed and comes with a Limited Lifetime Warranty. Forever One Moissanite is certified by Charles and Colvard – each stone comes with a warranty card.
NATURAL GEMSTONES
Natural Gemstones – we offer natural gemstones including Amethyst, Citrine, Garent, Ruby, Sapphire, Emerald, Morganite, Peridot, Topaz, Aquamarine and Tourmaline. Plus many more..
ALEXANDRITE
Alexandrite is the very rare color-change variety of the mineral chrysoberyl. Colours change from blue to teal green and purple. Originally discovered in Russia's Ural Mountains in the 1830s, it's now found in Sri Lanka, East Africa, and Brazil, but is exceptionally rare and valuable. Our Alexandrite's are lab grown,  the material is completely the same as best varieties of the natural Alexandrite – Russian, Brazilian or Rhodesian. Natural Alexandrite is extremely rare and more expensive than even diamonds, especially bigger carats stones.
METALS
We cast in solid sterling silver, gold and platinum. All metals are hallmarked. Gold and platinum come with authenticity certificate. Any mentions of accents are a plating and will wear.
Sapphire Studios is proud to offer all our customers the option of setting up a payment plan – let us help you purchase your dream ring.
We offer flexible payment plans across our entire collections of fine jewellery over a 1 to 4 month term.
It couldn't be easier to set up, just select 'payment plan' at checkout as your preferred payment method, you will then be prompted to select your preferred monthly term and pay a deposit of at least 30% which is required before manufacturing begins.
Recurring payments are then deducted on the same day every month from when your order was placed, you can also view your scheduled instalments or pay the total remaining balance at any time.
Your order will be shipped the next business day after payments have been completed.