'Aphrodite' 1.60ct Sterling Silver Skull Engagement Ring
Description
 'Until death do us part'
Sure to make you stop and stare, 'Aphrodite' features a beautifully brilliant round cut centre stone with small unified side stones in the shape of an X. Two unique skulls sit beneath the centre stone on each side with a further twelve cascading stones underneath the skulls. This piece represents 'together forever' or 'Until death do us part' . A beautifully crafted masterpiece
Payment plans available
ID # R-300-ZP
Metal
Full sterling silver 
Sterling silver with black rhodium
Stones 
Centre stone 1.00ct/6.5mm
Side Stones 0.60ct
Stones lab created 
Custom made please allow 2-3 weeks for manufacture 
FREE SHIPPING WORLDWIDE 
Optional upgrade centre stone – All C&C moissanite stones ship with a lifetime warranty card issued by Charles & Colvard. 
Black rhodium gold or silver rings are not fully black, will be somewhat grey in color.
Black rhodium on gold or silver will wear off in frequent contact with soaps,perfumes etc. Will wear off through a period of time giving the ring an exclusive look by exposing the gold or silver underneath.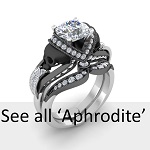 STONES
Lab created stones – these are not natural earthed diamonds which are very expensive. SWAROVSKI Gemstones™ is a leader in producing synthetic gemstones that possess a very natural beauty. The stones are laboratory-grown made from zirconium dioxide – cz base, that boast fine colour, no colour mixing, and a superb cut, which result in a beautiful duplication of nature. 100% conflict free stones. These are not carbon stones these are a cz created stones and are very hard, heat resistant, and reflect light just like a diamond.
NATURAL WHITE DIAMONDS
Natural white diamonds – certified GIA, IGL, EGL, or DGLA. Stones guaranteed and certified. Natural black diamonds come guaranteed and with an authenticity certificate.
MOISSANITE
Charles and Colvard Forever One certified moissanite – More brilliant than diamond at a fraction of the cost, Charles & Colvard Forever One Moissanite® is among the hardest minerals on earth, more durable than sapphire, ruby, or emerald. Its beauty and brilliance is destined to last forever. We only use top graded Forever One Moissanite® with color grading of D-E-F. Forever One® is certified, laser inscribed and comes with a Limited Lifetime Warranty. Forever One Moissanite is certified by Charles and Colvard – each stone comes with a warranty card.
NATURAL GEMSTONES
Natural Gemstones – we offer natural gemstones including Amethyst, Citrine, Garent, Ruby, Sapphire, Emerald, Morganite, Peridot, Topaz, Aquamarine and Tourmaline. Plus many more..
ALEXANDRITE
Alexandrite is the very rare color-change variety of the mineral chrysoberyl. Colours change from blue to teal green and purple. Originally discovered in Russia's Ural Mountains in the 1830s, it's now found in Sri Lanka, East Africa, and Brazil, but is exceptionally rare and valuable. Our Alexandrite's are lab grown,  the material is completely the same as best varieties of the natural Alexandrite – Russian, Brazilian or Rhodesian. Natural Alexandrite is extremely rare and more expensive than even diamonds, especially bigger carats stones.
METALS
We cast in solid sterling silver, gold and platinum. All metals are hallmarked. Gold and platinum come with authenticity certificate. Any mentions of accents are a plating and will wear.